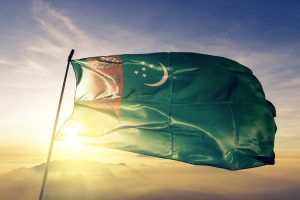 In a May 2021 article for The Diplomat charting the somewhat confusing evolution of Turkmenistan's assembly bodies, Rustam Muhamedov prophetically concluded:
A year later, in March 2022, Berdimuhamedov's son Serdar was elected president and replaced his father at the technical top of the Turkmen government.The elder Berdimuhamedov did not go far, as he remained chair of the Halk Maslahaty, or People's Council — at the time the upper house of the Turkmen parliament.
In the ensuing year, one could be forgiven for forgetting Turkmenistan had a new president, very little changed.
And as Muhamedov predicted, the People's Council indeed had a further role to play.
The elder Berdimuhamedov previewed the coming changes in mid-January 2023, and on January 21, the upper and lower houses of Turkmenistan's parliament met and approved yet another overhaul of the Turkmen Constitution.
The changes revert the parliament to a single house (it had been bicameral since 2020) and reinvented the People's Council once again as the "the highest power" in the land.
The elder Berdimuhamedov, naturally, has been appointed head of the evolved People's Council.The new post also comes with a new title, "national leader," which he adds to his existing vanity title of Arkadag, "protector."
Enjoying this article? Click here to subscribe for full access. Just $5 a month.
The People's Council, now the "supreme body of the people's power," will include the president as a member, along with other officials, and have the power to change the Turkmen Constitution, supervise all branches of government, and determine all domestic and foreign policies, from the political and economic to matters of social and cultural development.
As Eurasianet's Akhal-Teke Turkmenistan bulletin pointed out:
But, the bulletin's author adds, this reconfiguration of the Turkmen government leaves Serdar in a much weakened position: president at a time it's not clear the presidency matters all that much.
Back in 2021, Muhamedov also observed that "Berdimuhamedov shares a pathological distrust of other institutions…" This latest transformation of the Turkmen state demonstrates that well.There are no institutions that matter beyond Berdimuhamedov, the elder.
At 65, the elder Berdimuhamedov is not a young man (though his DJ skills may convince you otherwise).His predecessor, Saparmurat Niyazov, died in 2006 at the age of 66.